Promoting the development and use of PDX models that are not just convenient but also scientific, easy to use, and ethically appropriate
In order to promote the development and use of patient-derived xenograft (PDX) models in cancer research that are scientific, easy to use, and ethically appropriate, the J-PDX Library Steering Committee of the National Cancer Center Japan (hereinafter denoted as "the Center") and the Study Group on A Study on the Identification and Standardization of Issues in Drug Discovery and Development Research Using the PDX Models (funded by the Japan Agency for Medical Research and Development (AMED)) have formulated an Ethics Policy on the Implementation and Use of the J-PDX Library. The Ethics Policy concerns the ethical management and use of samples from PDX models in a xenograft library operated by the Center (the J-PDX Library), which has promoted the discovery and development of anticancer drugs for Japanese patients since its establishment in 2018(1).
The J-PDX Library contains PDX models prepared from cancer specimens and detailed clinical information obtained from individual patients, including patients with advanced/recurrent cancers for whom novel anticancer drugs are being studied through clinical trials and those with rare cancers for whom the development of anticancer drugs has been making little progress. The Library consists of PDX samples along with detailed individual patients' clinical information, so it is extremely valuable both domestically and internationally. To fight against cancer, PDX models in the Library are provided along with clinical information to domestic and foreign educational and research institutions as well as commercial entities in order to develop anticancer drugs and to advance medical research. Based on the Ethics Policy, the Center will oversee the J-PDX Library project while managing and overseeing the PDX samples and clinical information in the Library in ethically appropriate manners.
Patient-derived Xenograft (PDX) Models
PDX models are tumor-bearing models created by directly transplanting tumors removed from patients into immunodeficient mice. In the past, cancer cell lines or cell line-derived xenograft models in which cells lines were transplanted into immunodeficient mice were often used to evaluate anticancer drugs. Compared to those conventional models, PDX models have a significant advantage of retaining the original structures and characteristics of a patient's tumor, such as its heterogeneity. When used to evaluate anticancer drugs, PDX models thus essentially reflect the real effects of treatment in an actual patient with cancer, and these models are anticipated to serve as an important system with which to evaluate anticancer drugs (2-4). In an actual clinical trial to develop an anticancer drug, groups of research subjects are selected based on clinical information such as the type of cancer, histology, clinical stages, genetic alterations, and treatment history(5). Similarly, individual clinical information on patients from whom the tumor samples were obtained needs to be collected and used with PDX models in order to select an appropriate model and interpret the results of analysis.
The Context for the Formulation of Ethics Policy
The usefulness of PDX models, and particularly those with individual patients' detailed clinical information, for drug discovery and development as well as for medical research has been recently garnering attention domestically and internationally. On the one hand, PDX samples can be maintained by transplantation or passaging into laboratory animals, enabling repeated use of the samples over a long period of time. On the other hand, those characteristics mean that PDX models always carry a risk of being provided to unspecified irresponsible third parties without controls or limits and they are inevitably carrying a potential concern of abuse and thus violating patients' dignity. In light of a recent series of scandals involving leaks and disclosure of personal information, there are strong calls by society to properly manage and protect privacy and personal information. In response to that social trend, the Act on Protection of Personal Information (APPI) has been repeatedly reinforced through amendments, and penalties for infringement of personal information are getting tougher each year. Moreover, researchers have now widely acknowledged that biomedical research involving human biospecimens and clinical information and long-term research infrastructures such as biobanks that collect, store, provide, or distribute those specimens and that information for other research projects and drug development purposes must establish an ethical research framework based on trust and social acceptance(6).
In light of these circumstances, the Center has established "the Ethics Policy on the Implementation and Use of the J-PDX Library". In accordance with this policy, the Center will ensure to promote the development and use of PDX models that are not just convenient but also scientific, easy to use, and ethically appropriate.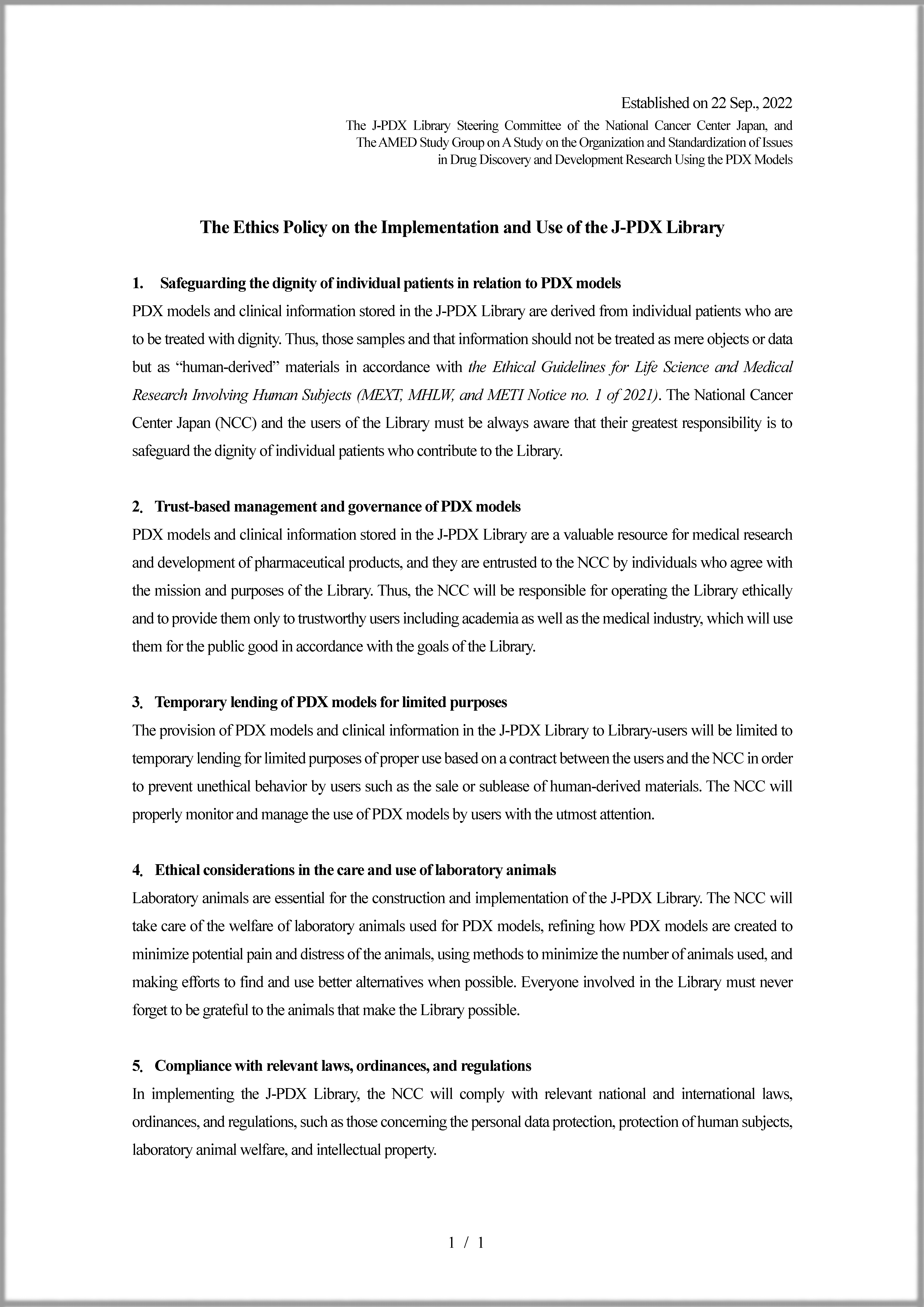 [References]
1. Yagishita S, Kato K, Takahashi M, Imai T, Yatabe Y, Kuwata T, et al. Characterization of the large-scale Japanese patient-derived xenograft (J-PDX) library. Cancer Sci. 2021;112(6):2454-66.
2. Aparicio S, Hidalgo M, Kung AL. Examining the utility of patient-derived xenograft mouse models. Nat Rev Cancer. 2015;15(5):311-6.
3. Gao H, Korn JM, Ferretti S, Monahan JE, Wang Y, Singh M, et al. High-throughput screening using patient-derived tumor xenografts to predict clinical trial drug response. Nat Med. 2015;21(11):1318-25.
4. Hidalgo M, Amant F, Biankin AV, Budinská E, Byrne AT, Caldas C, et al. Patient-derived xenograft models: an emerging platform for translational cancer research. Cancer Discov. 2014;4(9):998-1013.
5. Tosi D, Laghzali Y, Vinches M, Alexandre M, Homicsko K, Fasolo A, et al. Clinical Development Strategies and Outcomes in First-in-Human Trials of Monoclonal Antibodies. J Clin Oncol. 2015;33(19):2158-65.
6. Yassin R, Lockhart N, Del Riego MG, Pitt K, Thomas JW, Weiss L, et al. Custodianship as an Ethical Framework for Biospecimen-Based Research. Cancer Epidemiol Biomarkers Prev. 2010;19(4):1012-5.